A major deadline looms for security checkpoints – one which demands major changes to scanning equipment
June 2024 is rapidly approaching. In less than a year, UK airports are set to face what the Department for Transport has termed 'the biggest shake-up of airport security rules in decades'. In the UK, and over a similar timescale in other western countries, liquids and electronics will be permitted to stay within hand luggage as passengers pass through security checkpoints. A simplified system reduces the plethora of confusion and could critically help process 30% more passengers per hour.
However, the security risk of certain liquids or electronic devices is still a present issue and the burden of identification remains. In order to combat this problem, every security checkpoint requires a major hardware upgrade in the form of a significant overhaul of security procedures and requirements, enabled by the introduction of CT (Computed Tomography) technology to security checkpoints.
The relaxation of the rules on liquid volumes have grabbed public-facing headlines, including the 100ml restriction which will be removed, allowing passengers to carry up to 2 litre containers in cabin baggage. Further rule changes will lead to an increase in complexity and significant technological challenges for airports themselves which must be made against an extremely pressing deadline.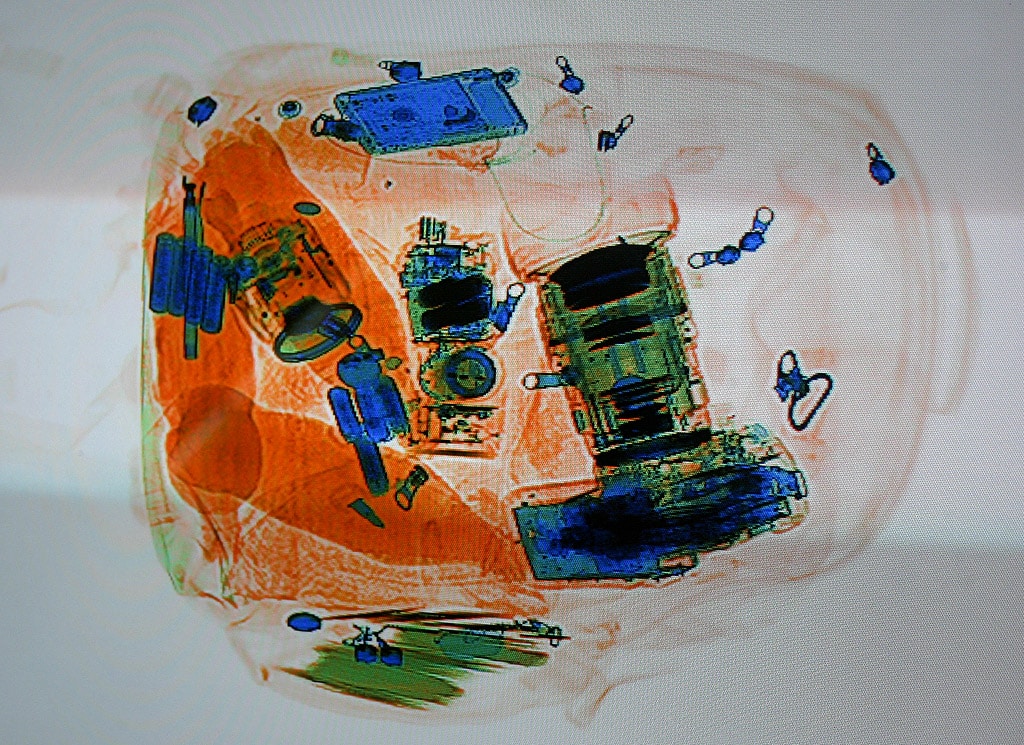 Replacing X-ray scanners with advanced CT technology
Older '2D' X-ray scanners we have relied on since the 1970s cannot discriminate between, for example, water, hydrogen peroxide, or high-strength alcohol. The new and developed scanners based on CT technology generate detailed 3D models of the inside of passengers' hand luggage, providing the most suitable option for enhancing detection capabilities for carry-on baggage. CT scanners can alongside with the help of AI, quickly differentiate liquids and offer a more complete view of electronics to security personnel.
Some airports, such as London City and Teesside, have already made hardware upgrades to allow for CT security checks. According to an ITV survey, however, a vast list of others intend to delay their final upgrades till nearer the deadline. Whatever the specifics of individual airports' plans, the timescale is short. Currently, airports are having to progress at rapid rates to procure the technology which will cover the next decade or more of passenger security.
Meeting difficult speed, capability, and uptime requirements
Futureproofing a scanning setup is, perhaps, the most worrying challenge of all. Developing and installing new hardware is an expensive and critical procedure and selecting incorrect systems while under time pressure may lead to detrimental consequences. Furthermore, inadequate or poorly functioning CT equipment could see airports falling foul of current or future security guidelines – or, much worse, allowing a security risk through, with the potential for dire consequences. There is no question that the accuracy and reliability of this upgrade must be beyond reproach.
The overarching goal of these revised regulations is to keep liquids and laptops inside the bag in order to increase passenger throughput. However, considering a slow or malfunctioning CT scanning setup may have the opposite effect. It is imperative to select technology with established credentials and proven speed, because CT scanning is a data-intensive task.
The faster that data can be accessed, the quicker operatives can react, and the more passengers can pass through within a certain timeframe. Previously, long, monotonous queues and awkward security procedures have soured the airport experience for many travellers and caused many airports serious reputational damage. However, with the fast, accurate CT scans this destructive trend will be reversed.
Given the critical nature of CT baggage scanning systems to those key aims, and the expense that comes with purchasing lanes of new scanners, installers must also ensure that all hardware (down to the component level) works and stays working. Scanners should be built around hardware which supports a flexible, modular design, and which is properly supported and documented. This is critical infrastructure and must be hardware which can be trusted.
Maintaining trust against a tight deadline
Trust is of overriding importance, especially with association to security. Frequent occasions in the past where vendor technology has contained vulnerabilities has provided an opportunity for hackers to access an IT network.
This hardware must also be built around components that are readily available; trust in the ethics and stability of a supply chain, given the tight deadline and mission-critical nature of CT scanner installations, is vital. The rush to meet new obligations as part of a forced upgrade may lead to choices which don't keep that trust in mind, on the part of both purchasers and OEMs.
Despite the fact-based nature of purchasing CT scanners, diligence needs to be ensured in order to act responsibly. Likewise, those OEMs manufacturing CT scanners must have the same concerns in mind, a significant factor is to work with trusted partners who have the ability and agility to create bespoke components not just fit for purpose but that are optimised for design. This consistently ensures speed, efficiency, and a sound foundation for the end product which protects against legal action should componentry be found to be sub-standard or non-compliant.
Partnering with a business ready to maintain high standards
Sens-Tech is an established world leader in the development and manufacture of X-ray detection hardware. We have worked in partnerships with OEMs for six decades and as such have the credentials to alleviate any concerns of component reliability and/or ease of integration. We have significant expertise and experience in providing components to major airport X-ray scanner manufacturers, and our XDAS platform – the industry's most comprehensive range of single and dual-energy detection electronics – is already driving leading airport CT scanning solutions.
Sens-Tech's components are trusted for multiple reasons: they are manufactured in the UK and they are designed specifically to meet the standards expected by aviation authorities around the world. Crucially, we have the ability to react to changing regulations quickly, accurately, and personally. Sens-Tech has an agile, knowledgeable team, supported by the resources of a FTSE 250 parent company. We employ fully-tested and certified electronic components, can create bespoke solutions to meet our customers' precise needs, and we keep stock on hand to ensure that we – and our partners – are ready to react without long lead times.
Airports may have no choice in their obligation to meet new regulations and requirements for baggage scanning, however they do have a choice when selecting vendors. We ensure high standards that produce consistent high-quality products which deter future complications.
For more information, contact
Paul Hurtado, Head of Sales and Marketing at Sens-Tech.